How this sweet passion came into being
According to legend Krumiri were invented partly for fun and partly by chance. Italy had been a unified country for only a few years and the repercussions of the Risorgimento could still be felt. After spending an evening with friends in his local café, Domenico Rossi invited them all to his confectioner's kitchen and there, with a little alchemy and a touch of magic, he baked the very first Krumiri. We don't really know for sure if that's exactly what happened, but that's what legend tells and we believe it. One thing we do know for sure is that in 1878, as the newspapers of the day report, the one and only Krumiri were an instant sweet success in the Italian art of confectionery.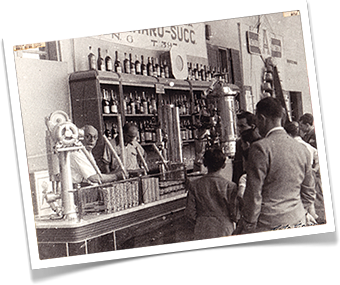 The King's favourite nibble
Who knows if Domenico Rossi could have imagined that Krumiri would become the symbol of his beloved town of Casale? As the new century dawned, Krumiri had already received a series of important official accolades, such as a bronze medal at the Turin Universal Exhibition in 1884 and Diplomas as "Supplier to the House of his Highness the Duke of Aosta, the Duke of Genoa and "Supplier to the Royal House of Italy to Umberto I". And in 1900 it won the Grand Award of Honour at the Casale Exhibition.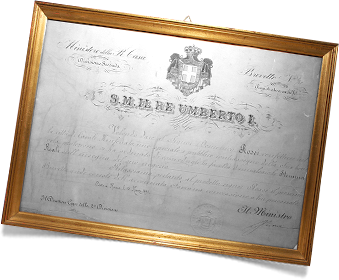 The fragrant biscuit through history
Passion will always take you far. It's like longingly following a smell, a fragrance that wafts out of a confectioner's kitchen, filling the air of a town's streets, enchanting the senses and imagination, and thereby perpetuating the history of those who instigated and nurtured that passion. In the Twenties, Angelo Ariotti took over Domenico Rossi's business and, with it, the recipe and the Krumiro patent, so the biscuit could continue its grand tradition through history, the same as it always was.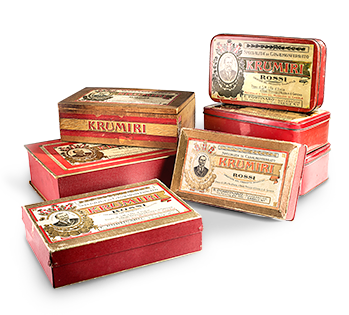 Conquering the world
Then Ercole Portinaro took over the company in 1953, followed by his son Romolo and Krumiri began to outgrow their original local roots day by day, finally conquering the whole of Italy and the world. In the space of just a few years they reached the Italian President's Palace, the Italian Parliament, and even headed overseas to the White House, where they have been appreciated by presidents, famous actors, showbiz stars and Nobel prize winners. Without ever changing.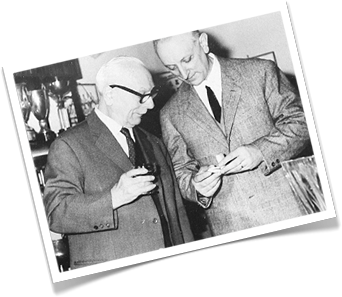 "Wonderful Krumiri!"
At the dawn of the third millennium, Krumiri are an institution. There's always the strong desire to look towards the future and a new era, but also to respect traditions that convey values and security at the same time. The Portinaro family's confectionery has been a point of reference for many famous gourmets. In 1998, the President of the United States, Bill Clinton, received a gift of a selection of the best produce from the Piedmont region, but he liked one in particular, as he wrote enthusiastically in a letter of thanks, with a special mention for the "the wonderful Krumiri".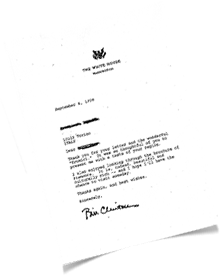 The tradition continues
"But that's the tin my grandma gave me!" People's reactions to Krumiri are passionate, immediate and honest. It's like love at first sight, but with a feeling of pride: there isn't anyone from Casale who won't give the flavour that has become the symbol of their land as a gift to others. Today the company is managed by Anna, the daughter of Romolo and Dorotea Portinaro. Her passion is fed by the pleasure of doing things just as they should be done, and done well of course, like in times gone by. And by continuing a tradition that has now become a part of history.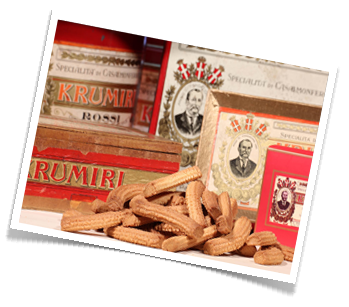 The secret ingredient is simplicity
Soft wheat flour, fresh eggs, butter, sugar, pure vanillin, and, most importantly, no water. The only thing that softens the mixture are eggs and butter, giving Krumiri their special irresistible fragrance. That's how it's been done since 1878. Staying faithful to the most authentic tradition, never changing the recipe and the simple, wholesome ingredients are what make Krumiri unique.

One by one, by hand
Krumiri are made exclusively by hand, and always have been. It's a simple but delicate process that requires experience and passion. The fresh eggs are cracked open by hand to keep the yolk perfectly intact. They are then added to the flour, butter, sugar and vanillin. When consistency is just right, the mixture is left to breathe for a whole day. Because all good things only come to those who wait.
Totally unmistakeable
Have you ever wondered where the traditional, distinctive milled pattern on Krumiri comes from? To make it we use the help of a machine – the only exception to a process that is carried out entirely by hand. It's called an extruder and is nothing more than a kind of large piping bag that produces long milled strips, the unmistakeable, historic Krumiri pattern.
Like the King's moustache
The shape of Krumiri is much more than just a design. The strips of dough are cut by hand into small portions with a special cutter and each one is bent by hand into the traditional moustache shape, just like Victor Emanuel II's moustache. A tribute from Domenico Rossi to the memory of the king who unified Italy.
Rituals and magic
The Krumiri are placed on trays at just the right distance from each other before being put in the oven. This is performed by hand, as tradition dictates, but that's not all. Once they are baked they are left to rest overnight, and only on the morning of the next day are they placed in the classic, unmistakeable red tins one by one. It's a slow process that consists of little rituals, as all art forms require. And they're ready to work their magic.
With tea
Krumiri are divine on their own but are also wonderful with other delicacies, with two provisos: the accompaniment must bring out the Krumiri's flavour without overpowering them, and it must be something special in its own right. Tea is a perfect example. Especially a premier tea, like Kenilworth, the finest Ceylon, with a flavour that is round and full yet delicate and aromatic, or large-leafed Lapsang Souchong from China, naturally smoked and as light as its fragrance.
With sweet wines
Have you ever tried Krumiri with wine? It's a match made in heaven, perhaps because some of Italy's best grapes grow on the Monferrato hills not far from where Krumiri are made. There are many great wines that combine perfectly with Krumiri. Whether they're sweet and bubbly or robust and fortified, the important thing is that they are noble wines. Because that's what Krumiri like: they love high-class company and can only be paired with flavours that produce sublime sensations.
With liqueurs
Liqueurs and Krumiri fall in love at first sight. Strong, deep spirit and direct, delicate Krumiri are a magical marriage. All gourmets have their weaknesses and their favourite flavours, so it's easy to match Krumiri with your liqueur of choice, creating a flavour you've never experienced before. But the height of pleasure is chocolate liqueur, like Italian grandmas made in days gone by. Perhaps it's the traditional values that go into making it; perhaps it's the combination of authentic flavours. Whatever it is, they are perfect together.
With Catalan cream
If you have a sweet tooth, Krumiri with Catalan cream is a unique experience. Their flavours are quite different, but both are the fruit of old traditions from two distant places. But just watch the fireworks when they first meet: it's love at first bite, a marriage that will last forever. The warm, intense flavour of Catalonia meets the sweet fragrance of Casale Monferrato. The sensations complement one another, and once you taste them together, you'll realise it's a pleasure that you will want to try again and again.
With zabaglione
Indulge yourself with Krumiri and an exquisite traditional Italian sweet – zabaglione. Just picture Italian grandmothers making it in the kitchen, each with her own secret recipe that is as simple as it is unique. But elegant, fragrant Krumiri can grasp and guard that secret, in exchange for their own, creating a powerful combination that recalls the flavours of yesteryear.
"Dear reader…"
"Don't overlook them, dear reader," wrote the Gazzetta di Torino newspaper in 1884, when it introduced Krumiri to the general public and invited gourmets to go and try them at the Turin Exhibition. Just a few years later and Krumiri had already made a name for themselves. But this was just the beginning. They won awards and accolades, and they received the official seal of approval from heads of state, actors and famous people around the world, earning the sweet biscuit from Casale Monferrato a place of honour in the history – and in the chronicles – of the great art of confectionery.
Contact us
For any information or request you can write to us at: info@krumirirossi.it